2016 Lonestar Artist Award Winner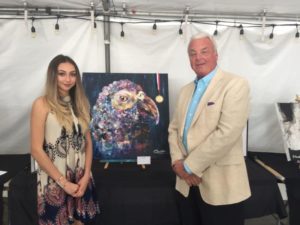 Kids Matter and Represenative Giovanni Capriglione are proud to announce, Itze Cuevas, a Senior at Westlake Academy and a Keller resident, as the 2016 Lonestar Artist Award Winner. The winning art piece was her oil painting named "Chepe".
Kids Matter sponsors and supports the annual Lonestar Artist Award with Representative Giovanni Capriglione from District 98 of the Texas House of Representatives. The art contest allows young student artists the chance to showcase their work locally, as well as the chance to be recognized at the national level for their talent and creativity. Hundreds of entries are submitted each year from students in the area to showcase their artistic abilities. Kids Matter is proud to sponsor a local program that invests in the creativity and talents of students in the Dallas Fort Worth Metroplex. With budget cuts at the state, federal and local levels, the school arts programs, such as music, painting, and theatre are being pushed aside. We believe these are necessary for the total development of a child; So it is with great pleasure that we support this most worthwhile effort.
The winner and their family attend a special ceremony in Austin, Texas where the winning art is displayed in the Texas State Capitol for an entire year. Kids Matter provides the winning recipient with hotel accommodations in Austin, TX and funds for trip incidentals.